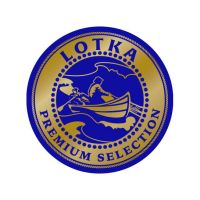 LOTKA
Marketed in the premium segment, Lotka is a brand designed for the educated consumer, who is an adept of a healthy and balanced nutrition in which fish has a consistent input.
For this type of consumer, we prepared a range of superior quality products that are very rich in nutrients.
Under the LOTKA brand you can find premium products from both the standpoints of carefully selected meat but also the premium packaging of the product as well.
The new brand is aimed towards the lovers of tuna and makrel, in chunks or fillet, and with a range of sauces such as olive oil, sunflower oil, own juice or tomato juice.
A big advantage of these products is the transparency of the packaging, thus inducing a sense of trust towards the consumers who actively pick superior quality goods.
The packaging of the tuna chunks is unique in the market, using a transparent lid that permits visualizing the product and the quality of it, thus offering motivation and extra safety at the point of sale.
The LOTKA products are versatile and can be used in a range of combinations: with vegetables, in salads or sandwiches or other recipes.
NĂVODUL PLIN
Navodul Plin has a vast canned fish portfolio in order to satisfy even the most demanding of consumers. The brand comes in aid to this type of consumer, offering the best price-quality ratio without any compromise in the taste of the product.
TAPAS
As of April 2018, Thenaisie Provote is part of the Scandia Food Group. Thenaisie Provote is a company with over 110 years of tradition, that has always focused on evolution, has always studied the trends and has constantly innovated and reinvented itself without losing its identity, the passion being passed down through generations. In Romania the brand that markets Thenaisie Provote products is TAPAS.
In the TAPAS portfolio we can find products such as mussels, squid, sardines, sardinellas, or tuna – all in appetizing packages.